Can Electronic Reminders Help Prevent Hot Car Deaths?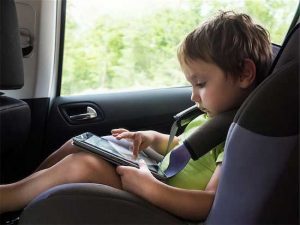 Despite repeated warnings reminding us how quickly the temperatures inside a motor vehicle can rise, we continue to see reports of children left forgotten in hot vehicles. Each year an average of 37 children die as a result of being left in a hot vehicle and many others suffer heat-related injuries. So far this year, 27 heat-related child deaths have been recorded.
Some reports link the increase in these heat-related deaths and injuries to passenger-side airbags. When passenger-side airbags were first installed, laws were changed requiring parents and caregivers to place child safety seats in the rear to protect young children from injuries resulting from a deploying airbag. Unfortunately, putting children in the rear seat puts them out of the driver's sight.
Placing a purse, briefcase, or cell phone in the back next to the child's safety seat forces drivers to look in the rear. Keeping the child's diaper bag or school bag on the front passenger seat reminds the driver that a child is in the car. While these tricks may be enough for some drivers, child safety advocates want the National Highway Traffic and Safety Administration to require auto manufacturers to install electronic reminders in their vehicles and one major car maker has taken steps to do just that. For more details, see "Hot Car Deaths and What the Auto Industry Is Doing About Them."