Could the Turf Your Children Play on Be Causing Them Harm?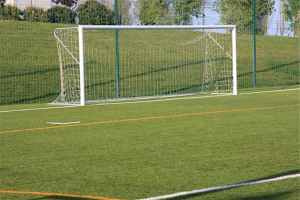 Artificial turf as an alternative to natural grass has been growing in popularity, especially in athletic field applications. Durability and low maintenance costs are among the benefits often cited. And now, new manufacturing technologies have yielded a surface designed to be even softer and more yielding to help prevent injuries. However, the safety of long-term exposure to this new surface has come into question.
Recent reports suggest the possibility of a link between student athletes who play on artificial fields made from crumb rubber and those who have been stricken with cancer. Those numbers have increased over the past several years, raising the concern of parents, coaches and even doctors. See the NBCNews article, "Mom of Goalie Who Died of Cancer Wants Answers on Artificial Turf."
Crumb rubber turf is made from recycled tires which, themselves, contain carcinogenic materials. This has led to the question of whether or not playing on artificial surfaces made from this material is increasing our children's risk of cancer.
Advocates for the use of artificial turf point out dozens of studies have been conducted on the safety of these fields and none have yet to uncover a link between the underlying materials and cancer. For opponents, however, the coincidence is too big to ignore. What both sides do agree on is that additional testing is needed and that it is time for the federal government to step up to the issue. Currently, the question of whether or not to use artificial turf remains a decision for state and local officials. For more information on where officials stand on this issue, see "Feds Won't Say If Artificial Turf on Your Kid's Soccer Field is Safe."