Efforts Being Made to Help Increase Compliance with Bicycle Helmet Laws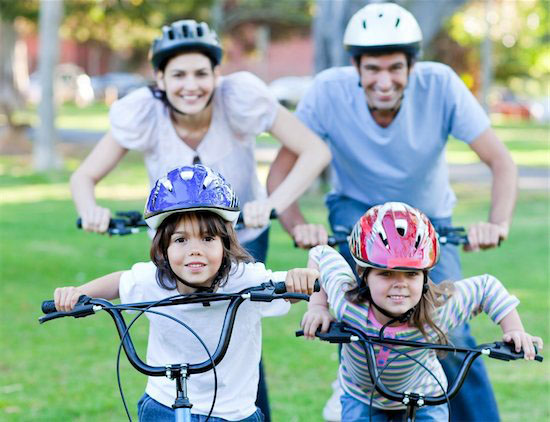 As schools wound down for their summer break, local law enforcement agencies took steps to help ensure a safe summer for everyone. In High Bridge, local police officers visited students during the last days of class to review safety tips, including bicycle safety laws. One South Jersey town took a somewhat more creative approach by issuing "friendly tickets" to all children caught wearing safety helmets while riding their bikes. The tickets entitle holders to a free water ice.
(1) New Jersey law requires all children under age 17 to wear a safety helmet while riding bikes, scooters, skateboards and in-line skates. The intent of the law is to cut down on head injuries, which are among the most serious type of injury because they can result in permanent brain damage. Head injuries are also the leading cause of death among bicyclists.
(2) A study of 13 northern New Jersey counties, including Hunterdon County, released last December reported that there had been 19,551 bike accidents in those areas over the last 10 years. Of those accidents, 81 resulted in fatalities. One of the reasons for the high number of accidents is that more bikes are taking to roadways designed for motor vehicles.
(3) Hunterdon County ranked 12th out of the 13 counties studied, with a yearly average crash rate of 1.06 per 10,000 residents, making it one of the safer places for bicyclists. One of the most dangerous sections of the county, however, is the Flemington area due, in large part, to its higher population. In a two year period from 2009 to 2011, ten bicycle-related crashes, one fatal, occurred in or near the borough: four on Main Street, four on Route 31, and two just over the border in nearby Raritan Township.
(3) Hunterdon County's challenges to keep bicyclists safe are twofold: the congested roadways in more densely populated areas, like Flemington, are designed for motor vehicles and not bikes; and the County roads in the less densely populated parts of the county are too narrow to accommodate shared usage. In addition, these roads can contain obstacles, like mailboxes and ditches, which prove hazardous to bicyclists.
(3) While a majority of bicycle-related deaths are due to accidents between bikes and motor vehicles, serious accidents can also happen on bike paths or in parks. Even if children are not allowed to ride in the streets, complying with the State's safety helmet law is important. In addition to helmets, the law also requires bicycles to be equipped with a front white-light headlamp and a rear red-light headlamp, both visible for a distance of up to 500 feet, for nighttime use, and a bell or other noise-making device (but not a whistle or siren) audible for a distance of at least 100 feet.
(4)
(1) Kids in S. Jersey town found wearing helmets on bikes, scooters to be 'ticketed,' get reward
(2) http://www.nj.gov/lps/hts/bike.html
(3) http://www.nj.com/suburbannews/index.ssf/2012/12/study_nearly_20000_bicycle_acc.html
(4) http://www.state.nj.us/transportation/commuter/bike/regulations.shtm