Motorists Take Note: NJ Adopts New Safe Passing Law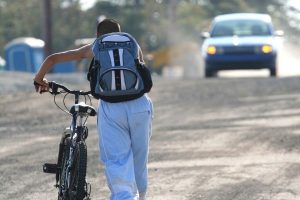 Drivers in New Jersey now face new regulations aimed at making the State's roadways safer for all users – motorists, pedestrians, and cyclists alike.
On August 5, Gov. Phil Murphy signed into law measures intended to decrease the number of accidents involving motor vehicles and others using the roads by requiring drivers to move over a lane when passing pedestrians, bicyclists or scooter riders. If changing lanes cannot be done safely, drivers are required to slow down and be prepared to stop if necessary. Failure to comply could result in fines and possible points against the driver's license.
The pandemic and its related restrictions resulted in less vehicular traffic but more people walking and riding bikes and scooters on the roads. With restrictions now loosening and more people returning to their places of employment, motor vehicle traffic is on an uptick. NJ State Police records show that the number of pedestrian fatalities reported so far this year almost match the number reported for 2020 and are on track to result in an increase of 60%. To learn more about this new law read, "Drivers must now move over when passing people walking and on bikes."