Safety Tips for Traveling through Winter Storms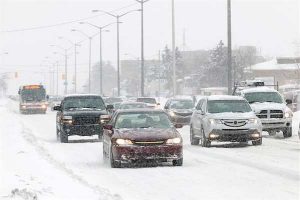 When weather forecasts call for accumulating snow or even a wintry mix, drivers should take precautions. Wintry weather reduces the friction of the roadway as well as a driver's ability to control his or her vehicle, leading to an increased risk for accidents and injuries.
According to the U.S. Department of Transportation's Federal Highway Administration, 24% of weather-related motor vehicle accidents take place on roadways covered by snow, slush or ice, and 15% occur while snow or sleet is falling.  Many of these accidents occur when drivers panic and make sudden, jerky movements behind the wheel. Turning the wheel too quickly, slamming on the brakes or stepping too hard on the accelerator can cause your vehicle to lose what little traction it has on a slippery road, leading to a loss of control.
The best advice, of course, is to stay off the roads during a winter storm, but that isn't always practical. For tips to help reduce your risk of an accident if you must drive through a winter storm, read Car and Drivers' "How to Drive Safely in Snow."