This Summer Make Pool Safety a Priority to Avoid Injuries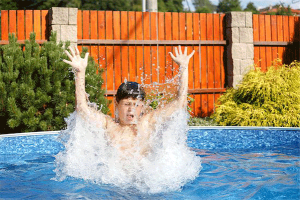 Memorial Day traditionally marks the start of the summer season even though the summer solstice is still a few weeks away. While summertime often evokes thoughts of casual relaxation, it is no time to let your guard down, particularly if you own a backyard pool. This is the time when extra diligence is required to protect your guests from injury, especially when young children are involved.
The American Red Cross reports that each year more than 200 children drown in backyard pools. Already stories are emerging about children injured in pool mishaps; see Jonathan Lin's story, "Bayonne boy found unconscious in pool, taken to hospital, eyewitness says." Accidents such as these can result from any number of situations: unsupervised children, unsafe diving, excessive horseplay, to name a few.
Making safety a priority when it comes to using your pool will allow both you and your guests to enjoy it and, at the same time, help to prevent injuries. In an article on its website titled, "Home Pool Safety – Maintaining a Safe Environment Around Your Home Swimming Pool," the Red Cross offers some safety guidelines every pool owner should heed.